↓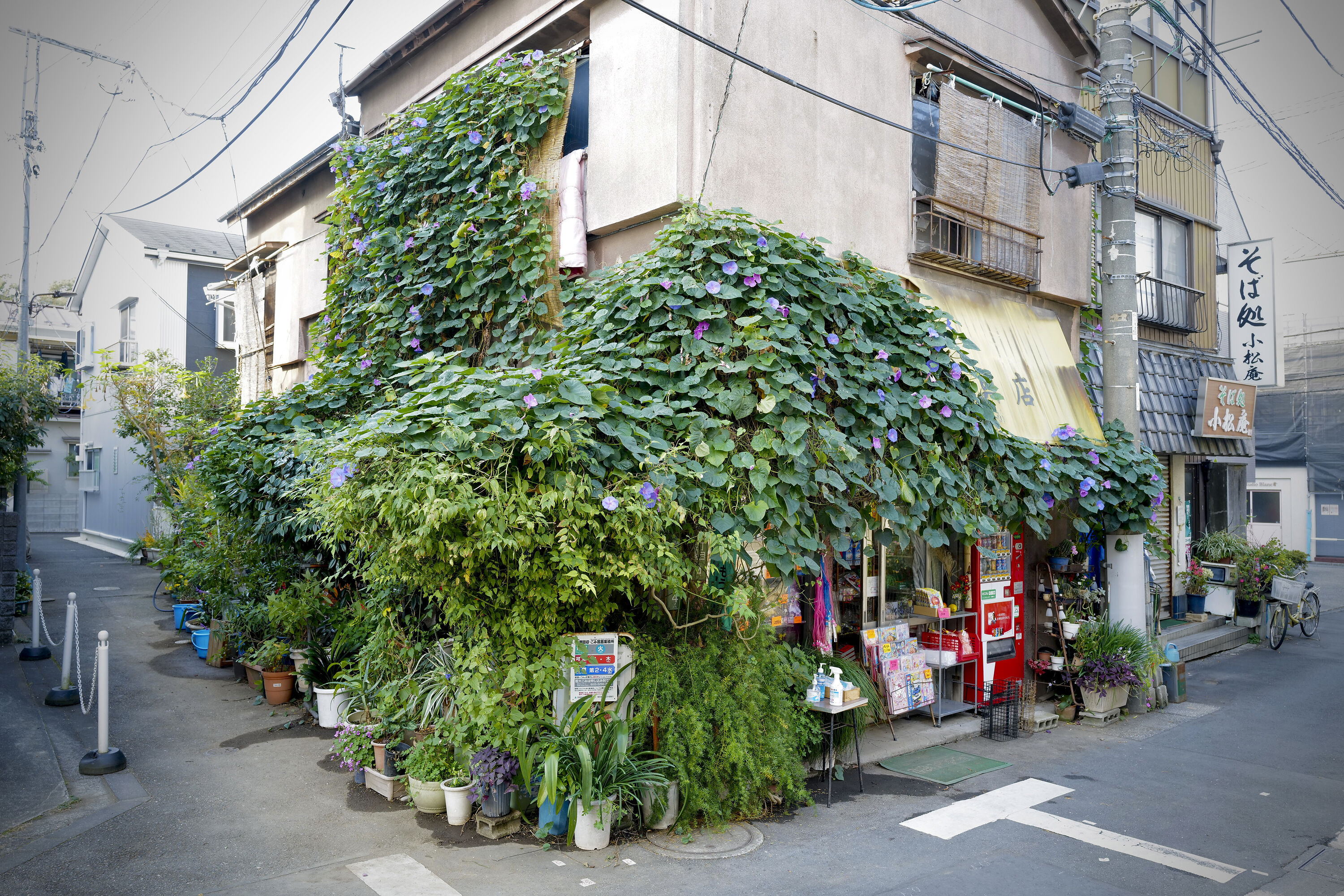 SPECTACULAR TO VERNACULAR
As we all transition back to our everyday routines, why not ease yourself in slowly and enjoy a few highlights from Niwaki Jake's visit to Japan in November? From the spectacular to the vernacular, let Niwaki be your guide.
First up, a trip to Jusho-in (the '-in' bit means temple) in Edogawa, East Tokyo, for a spectacular pine tree. Purported to look like a sleeping dragon – hence its name 'Garyu no Matsu' – to my mind the shape is more evocative of an octopus, albeit one with 21 arms (at our count).
If you've got a spare 500 years (somehow all old trees are always a nice, round 500 years old … hmmm) and a Pinus thunbergii (black pine) sapling you too could recreate this monster, and if you need a few tips ask one-time Niwaki model and all-round gardening hero Benjamin Kato (@benji.ma.kato on Instagram) and his boss @toshi.landscape – the tree's current custodians.
Next up, a lovely Ginkgo biloba, or Ichō in Japanese. Growing in the grounds of Nishi Hongan-ji ('-ji' is another suffix that means temple) in Kyoto, a pleasant walk from the main train station, this tree would have been even more spectacular a week or two later (this photo was taken on 8 November), but isn't that so often the way? Bearing in mind Ichō trees are considered living fossils and have even been found to survive nuclear blasts, we hope we'll get another chances to see this tree at its peak.
One very good reason for Jake to visit Kyoto is to catch up with gardening friends. This year, Kimura san (@kk6kimura) very kindly took some time out of his busy schedule to join Jake for a tour around Hakuryu-en ('-en' means garden) in a mountainous corner of North Eastern Kyoto, which has been painstakingly restored after years of relative neglect.
The woman responsible (for the restoration, not the neglect!) – head gardener Yuna (@niwa28nappa) –showed them around and together they marvelled at the steadily intensifying colours of the Acer palmatum, gearing up for their final fiery flourish later in November. This is a private garden, open for just a few weeks every year, so if you're thinking of making the trip be sure to plan well ahead.
And finally, to the vernacular. Sometimes you travel halfway across the world, only to be mesmerised by a relatively common plant growing all over a family-run neighbourhood convenience store. Look at all that lovely Morning Glory!
And how about this wonderful, heavily pruned (butchered?) Cedrus deodara in Yanaka, Tokyo? Called Himalaya sugi in Japanese ('sugi' as in the Cryptomeria japonica we love so much) this was one of the first exotics used in Japanese gardens, and is now a common sight. This particular specimen was almost lost to the developer's axe, but following public outcry it's now protected. Considering it's only about 90 years old, it's an impressive 20m or more in height and something of a draw for tourists thanks to its imposing stature and quaint position. Jake wasn't the only one snapping away when he visited!
What better way to wrap up this slideshow than in a cemetery? In place of the traditional English yew, an evergreen symbol of permanence and regeneration, in Japan you'll find deciduous cherry trees: symbols of impermanence and the fleeting nature of beauty. Direct opposites or two sides of the same coin? We'll leave you to ponder that one into 2023 and beyond.