↓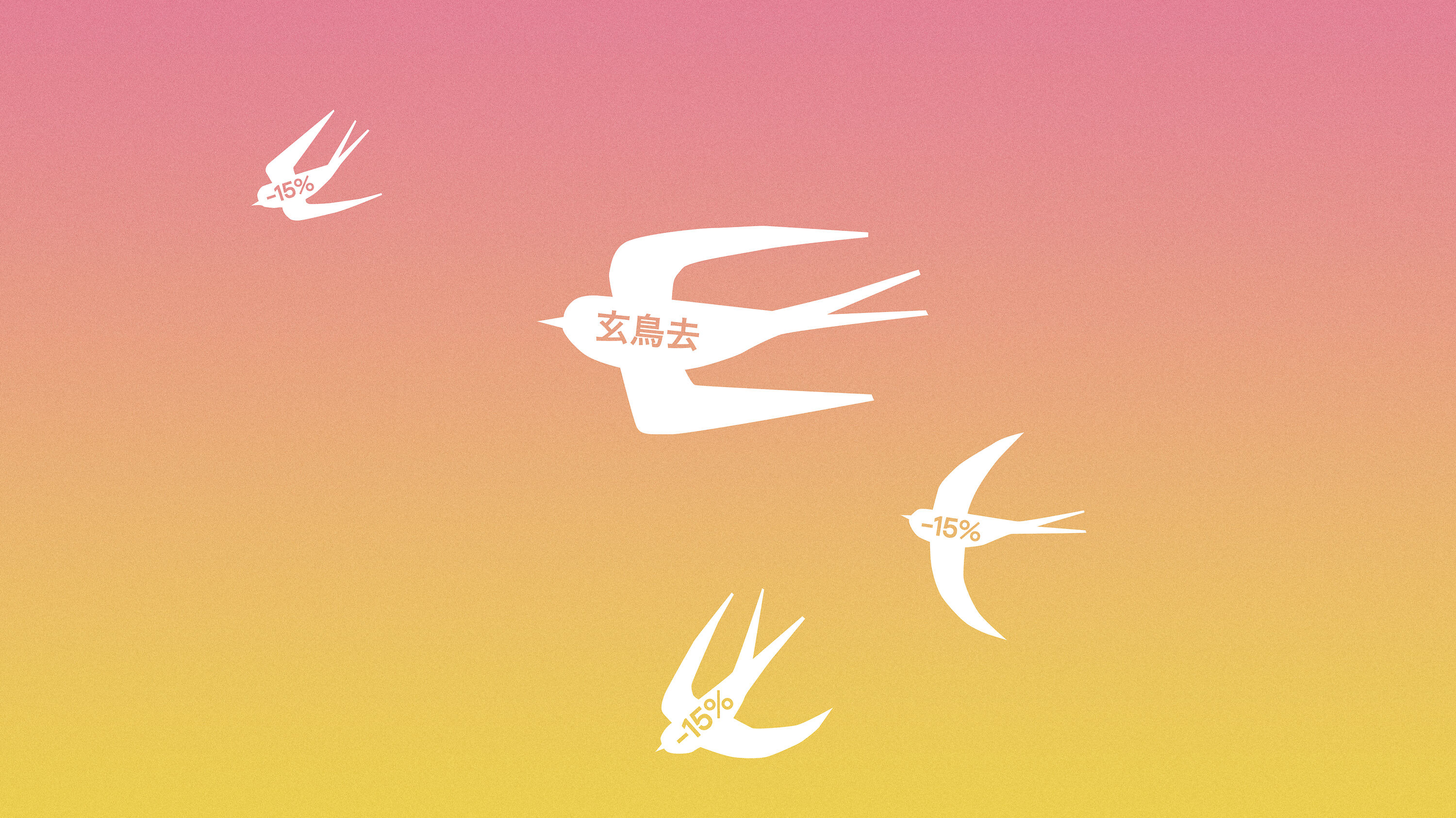 The Swallows Will Soon Be Leaving
*** SAVE ***
Save 15% on almost everything* from now until midnight on 21 September (UTC+1). The discount will be applied automatically when you add a product to your basket, but if you prefer you can also save in-store at Niwaki Chiltern Street, Semley and Kagurazaka.

*** PARTY ***
21 September, 6-9pm
38 Chiltern Street, London W1
Everyone is invited!
What are you doing during the season of white dew, on the second day of the swallows leaving? No, it's not a trick question, but if you want to answer truthfully you'll need to be au fait with the classification of the 24 sekki (divisions) and further 72 ko (subdivisions) that constitute the Japanese microseason calendar.
Based on an ancient Chinese system, the particular calendar we're referring to was devised in 1685 by a court astronomer called Shibukawa Shunkai, who adapted an existing Chinese calendar to match observed events closer to home.
Reading highly evocative names such as "distant thunder" (31 March-4 April), "rainbows hide" (22-26 November) and – a personal favourite – "worms surface" (10-14 May) you may wonder how much is close observation from a diverse range of sources and how much is poetic licence. Was Shibukawa-san merely updating a way of measuring time or composing a long-form poem, with the calendar as the central conceit? Or is it a bit of both: an almanac for aesthetes, if you will?
Either way, dreamers, artists, naturalists and gardeners can all call on this more gentle method of noting the passing of time, which, in an increasingly digital world, has a pleasingly analogue, imprecise ring to it. It is also noteworthy how few of the entries relate to any sort of 'useful' activity: they are much more about noticing and appreciating the small moments in life, which is not a bad analogy for the pleasures of gardening.
Returning to our original question, what you should be doing on the 21 September (mid-way through the departure of the aforementioned swallows) is celebrating the first anniversary of Niwaki Chiltern Street. Please join our Founder, Jake, Chiltern Street manager, Darren, assistant manager, Lucie, along with the rest of the Niwaki crew at the shop from 6pm for drinks, nibbles, tool chat and a special (pink!) anniversary giveaway … while stocks last. And if all that's not enough to coax you out of your lair, we will also be launching the new Takumi Ripstop Work Suit, as modelled by friend of Niwaki, Atsushi (below).
Everyone is invited – we hope to see you there!
If you haven't already signed up for our newsletter, maybe this would be a good opportunity? Subscribers are always the first to know about offers, invitations, tool care demonstrations and new products, to name just a few benefits. We promise to keep our monthly communications relevant and useful.
* excludes workshops, knife sharpening, vouchers and trees. Sorry about that.