↓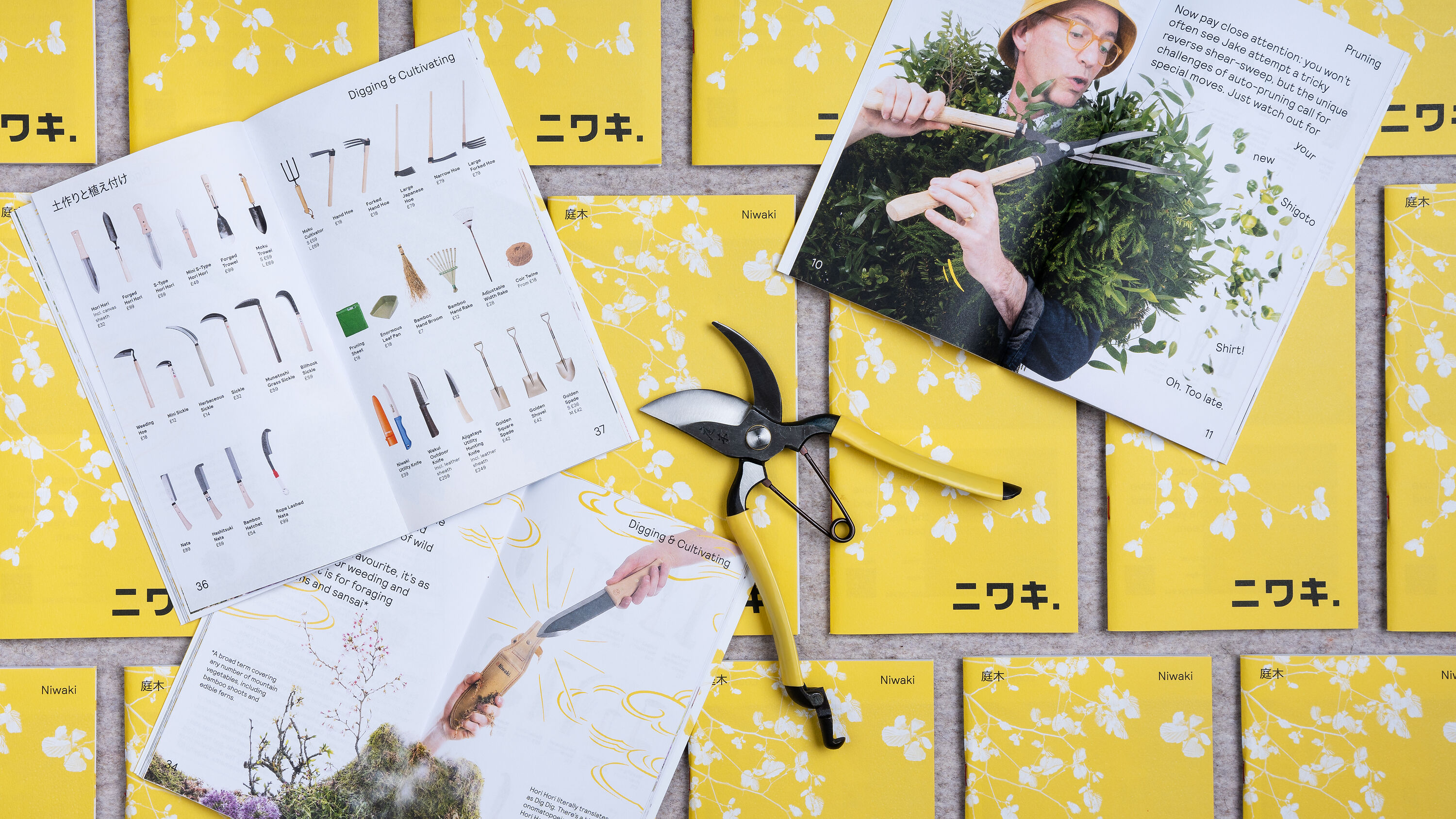 Niwaki Catalogue 2022
We may say this every year, but THIS year's Niwaki catalogue really does have the finest selection of great stuff from Japan available this side of Cape Irizaki. And what's more, it will soon be landing on doorsteps up and down the country, tantalising and enticing gardening connoisseurs with a trug-ful of tools, gear, tripod ladders, homeware and much, much more.
With over 300 different products, this year's publication is packed tighter than a Shinjuku Line carriage at rush hour (and trust me, that's packed). Where else will you find a Japanese Grater (p.55), the best shears money can buy (p.19), a canvas apron emblazoned with Eley Kishimoto's iconic flash pattern (p.29) and kitchen knives (pp.54–59) so sharp they'll make your old knives feel like something unearthed next to mammoth bones in the back of a cave? Well, there's this website I suppose, but you can't get your red pen out, circling what you fancy on a website can you?
Getting back and forth to Japan remains tricker than usual, so this year we worked on the whole thing right here at Niwaki HQ, Semley, employing the previously un-tapped modelling talents of the men and women who have kept Niwaki ticking over for the last few years. Niwaki founder Jake (pictured) even joined in the fun!
If you were lucky enough to join our Ikebana workshop in March you will already have met Ai, who is responsible for the fantastic floral creations that adorn the pages. More recently Ai has been helping out on the Niwaki stand at the RHS Chelsea Flower Show, where she also created the planted panels at the back of the stand. Originally from Japan, much to our delight Ai now lives close to Niwaki HQ, helping to add some Japanese style to the West Country.
Although Sam (whose disembodied hand descends from the heavens wielding a Hori Hori on p.35) would argue otherwise, the breakout stars of the show are surely Darren and Lucie, who took time out from their busy schedules at Niwaki Chiltern Street (our remarkable London shop, open since September 2021) to model the latest fine tools, workwear and accessories. We hope you enjoy the pictures as much as we enjoyed making them.
If you usually receive a catalogue but have yet to do so this year, click here to request one: www.niwaki.com/catalogue/
If you're not sure, the form will let you know if yours is on its way.