↓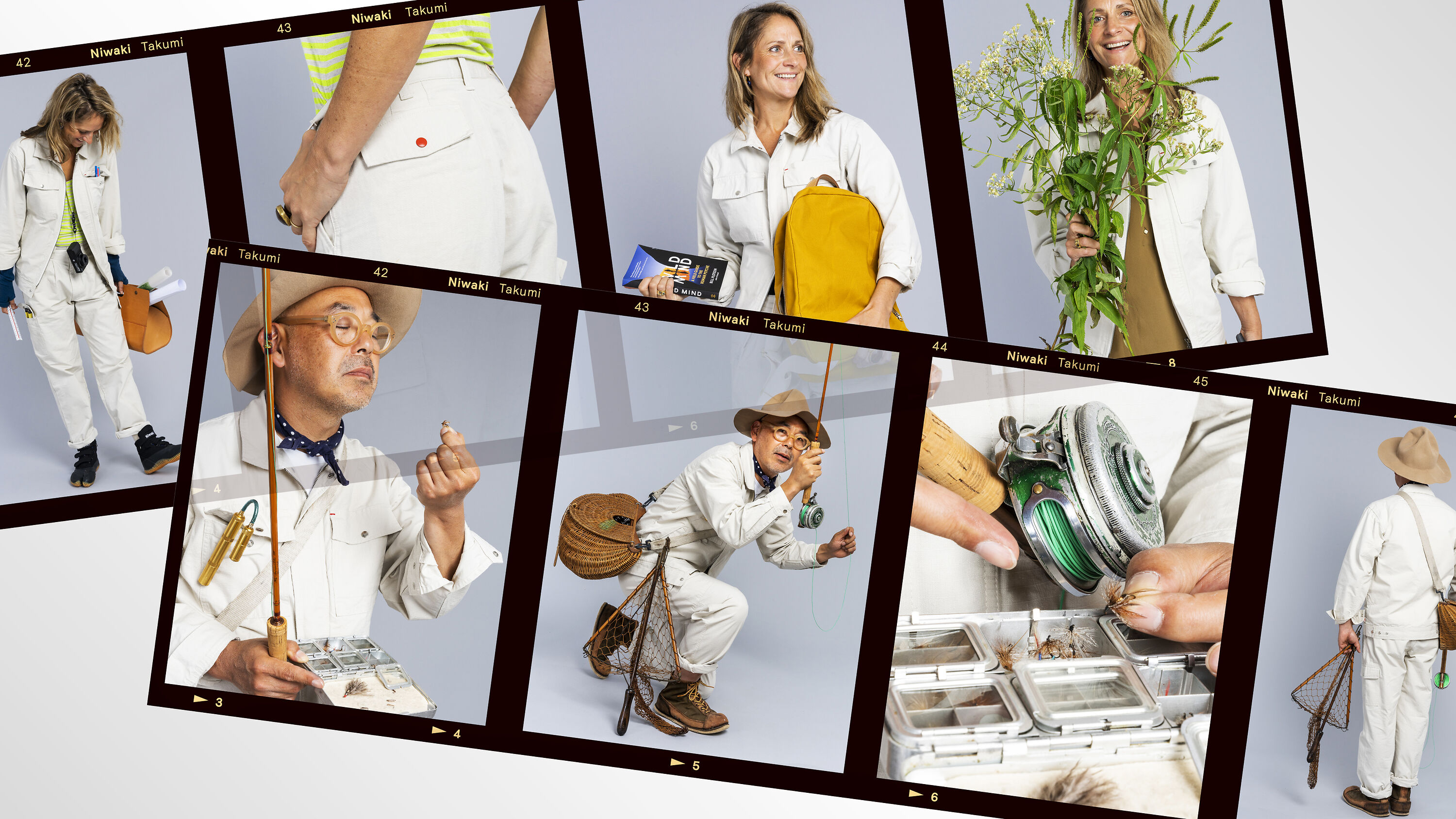 NIWAKI TAKUMI RIPSTOP WORK SUIT
Introducing the Niwaki Takumi Ripstop Work Suit, comprising a jacket and trousers made from hard-wearing, 9.5oz ripstop cotton.
Takumi means 'artisan' or 'expert'. But expert in what? Well, that's really up to you.
We called on friends of Niwaki, Atsushi and Lulu, to ask if they could model the gear. Oh, and one more thing: could they bring a few props to tell their stories?
Atsushi Hasegawa chose to share his fly fishing expertise, including his passion for vintage – largely French – tackle and accessories.
Lulu Urquhart brought garden plans, bulbs from her own Organic Bulbs company, and her treasured Niwaki notebook, which contains her to-do list for the installation of Urquhart & Hunt's game-changingly brilliant, gold medal winning, 'Best in Show' RHS Chelsea Flower Show 2022 garden.
Diverse but equally fascinating areas of expertise, we hope you'll agree.
We'd like to make the case, in this instance, for expanding the definition of expert to include aspiring experts.
It's reassuring having the right tool for the right job, and the right clothes for the right occasion, so think of the Takumi suit as an encouraging, avuncular ripstop-clad hand on your shoulder, steering you towards greatness.
The inspiration for our Takumi suit comes from the ubiquitous poly-cotton work suits owned by all self-respecting, vaguely practical Japanese men and women. Fixing a bike? Pruning a Cryptomeria japonica? Saving Tokyo from an enormous, radioactive monster (see any one of the 32 Toho studios Godzilla films, where similar suits feature heavily)? Every task is made easier and accomplished more professionally if you've got the right clothing. We wanted to channel this utilitarian spirit through the textile-making expertise of our Kojima workshop to create something practical, long-lasting and stylish.
The Takumi Ripstop Jacket is loaded with functional details, including two snap-close breast pockets (each with their own pencil slots, helpfully freeing up your ears for safety goggle, spectacles or shades), a further pair of slanted pockets on the hips, adjustable waist cinches, snap-close cuffs and a two-way YKK zip.
The Takumi Ripstop Trousers feature side pockets just where you'd expect to find them, two snap-close, slim-line cargo pockets on the thighs, two more pockets on the seat (one with a snap-close flap, the other a simple slit pocket), a pleated waist for comfort and ease of movement, belt loops and a YKK zip fly.
Both pieces feature a few subtle Niwaki-fied details, including the exterior Hanko label and a single red popper.
The real star is the material: based on a highly sought-after vintage fabric – that used for U.S. Army Jungle Fatigue from Vietnam-era onwards – this lightweight but incredibly hardy 9.5oz ripstop cotton starts off crisp, dry and firm. Over the years it will soften while maintaining its strength and integrity, settling in to become a durable, soft and highly personalised item of clothing. Woven, dyed and designed in Japan for Niwaki.
Worried about getting dirty? You're looking at it all wrong. The crisp, 9.5oz cotton is a blank canvas for the evidence of your future endeavours. Wear your grass stains, paint splashes and oily fingerprints with pride.
Takumi of all types – gardeners, craftspeople, bodgers, dreamers and flaneurs of all persuasions – suit up (or mix it up, as the occasion demands).