↓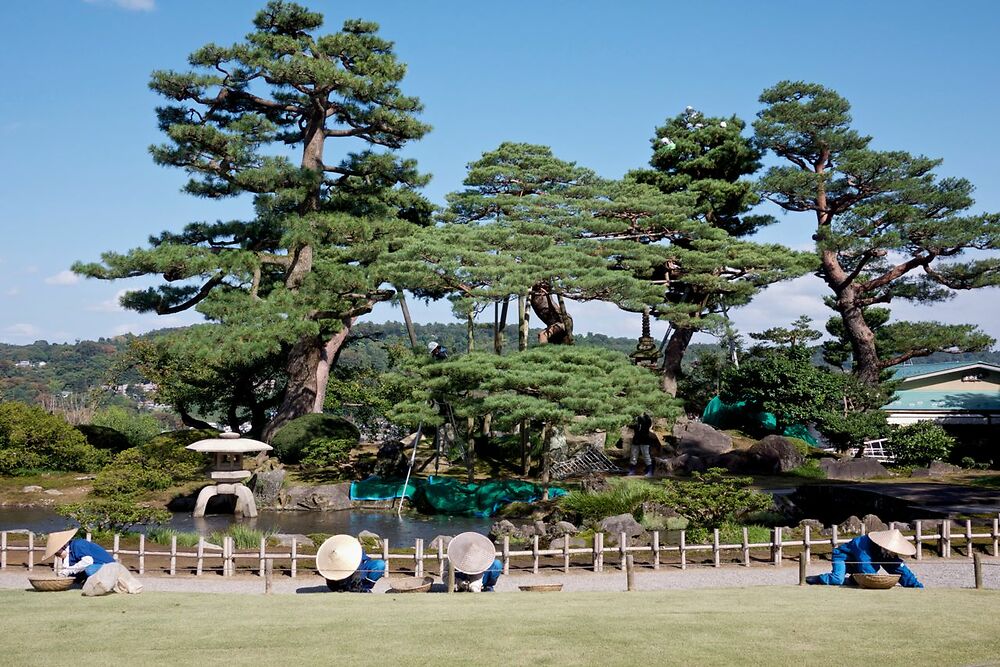 22 January 2014
Following a few comments on FaceBook about a photo I posted (do feel free to like, follow and share our FaceBook page, by the way - it's a hoot) a photo of Japanese gardeners at work in the Adachi Museum, and comments asking where all the women were, here is another, very typical view of gardeners at work. It's Kenrokuen garden, and the little white blobs at the top of the pine trees are men, pruning. The squatting figures at the front are women, weeding. This, I'm afraid, is pretty much what you get in Japan, in traditional gardens.
When I was working there, I came across one young woman who worked in her family nursery, and of course was just as good at what she did as all her young male colleagues, but when I next visited, a few years later, she had quit, to open a hair salon.
Contemporary gardening in Japan is changing a bit, with a stronger interest in plants, and it's here that the workforce is more fairly split, having perhaps studied horticulture, but the niwashi, the gardeners, in traditional Japanese gardens are nearly always male. Japan is very different to the west. It's not always exactly how we'd like it to be, but that's what makes it Japan.
Still, at least no dolphins were hurt in the pruning of these trees.