↓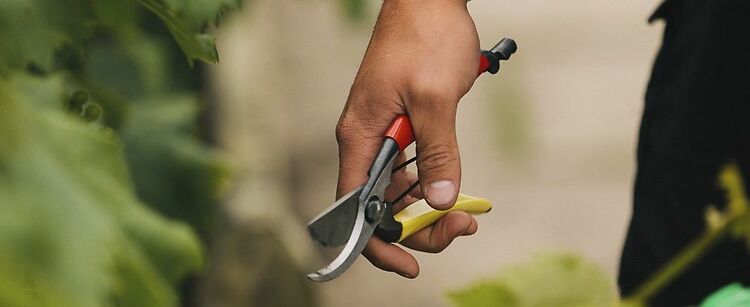 20 November 2013
Choosing a pair of secateurs from Niwaki should be pretty straight forward: they're all great, and obviously, the more expensive they are, the greater they are. Here are some more helpful pointers though:
Short answer: for most people, the decision is Okatsune or Tobisho. If you are the kind of person who leaves things lying around and uses the nearest thing to hand to open paint tins etc - get the Okatsune. If you enjoy owning beautiful, well made and highly useable stuff, get the Tobisho.
1st question, SIZE:
- if you want a small pair, you need the Okatsune Small. Simple as that. If you have small hands, or you find using secateurs hard work, these will be easier. - if however you have enormous hands, then you need the Okatsune Large - they're only 1cm longer than the Std size, but that's all in the handle, so gives you more to hold on to. These are made specially for the international market.
2nd question, QUALITY:
- the cheapest, Genzo, are fine for occasional pruning of lighter plants, but not really suitable for heavy wooden cuts.
- Okatsune, in whatever size, are the industry standard in Japan, and what most pros and jobbing gardeners use day to day. They are machine made - the steel is pressed into shape, welded to the handle, then sharpened and assembled individualy. If you're after a robust, simple pair of secateurs that will handle just about anything, these are the ones. the spring action and solid catch at the bottom define Japanese secateurs, and they have a direct action that doesn't rely on cushioning or gearing. If you're serious about pruning, but are prone to mislaying your tools, get these. Bunny Guinness has had nice things to say about them in the Telegraph.
- Tobisho slightly confuse things by making various styles of secateur, all remarkable. They're a small family business in Yamagata, currently run by Yasuhito Tobitsuka, 3rd generation. As their tools are hand forged by skilled craftsmen, they can be prone to supply problems, and we quite often find ourselves out of stock. We do two: the Tobisho secateurs, and the Tobisho Hiryu.
1. The Tobisho secateurs, with the red and yellow handles, are beautiful, hand forged with high quality carbon steel running the entire length of the blade and handle. They have a lovely refined feel to them - they clearly feel (and look - and inded are) better than the Okatsune. If you treat pruning as a pleasure, rather than a necessity, get these. Monty Don uses them sometimes on tv and has had kind things to say about them in the Telegraph. 2. Finally the Tobisho Hiryu - these are exceptional, and clearly not for everyone. Using a more tradional design, the cutting blade has a concave inner edge, meaning it is only in contact with the bypass piece at the pint of cutting, so there is less friction and resistance during the cut. Tobisho have also tucked in a little hidden grease reservoir within the blades to keep things moving. They come with a leather holster. Although they are amazing, and very pleasurable to use, they are not suitable for heavy thashing - keep them for careful, deliberate pruning.