↓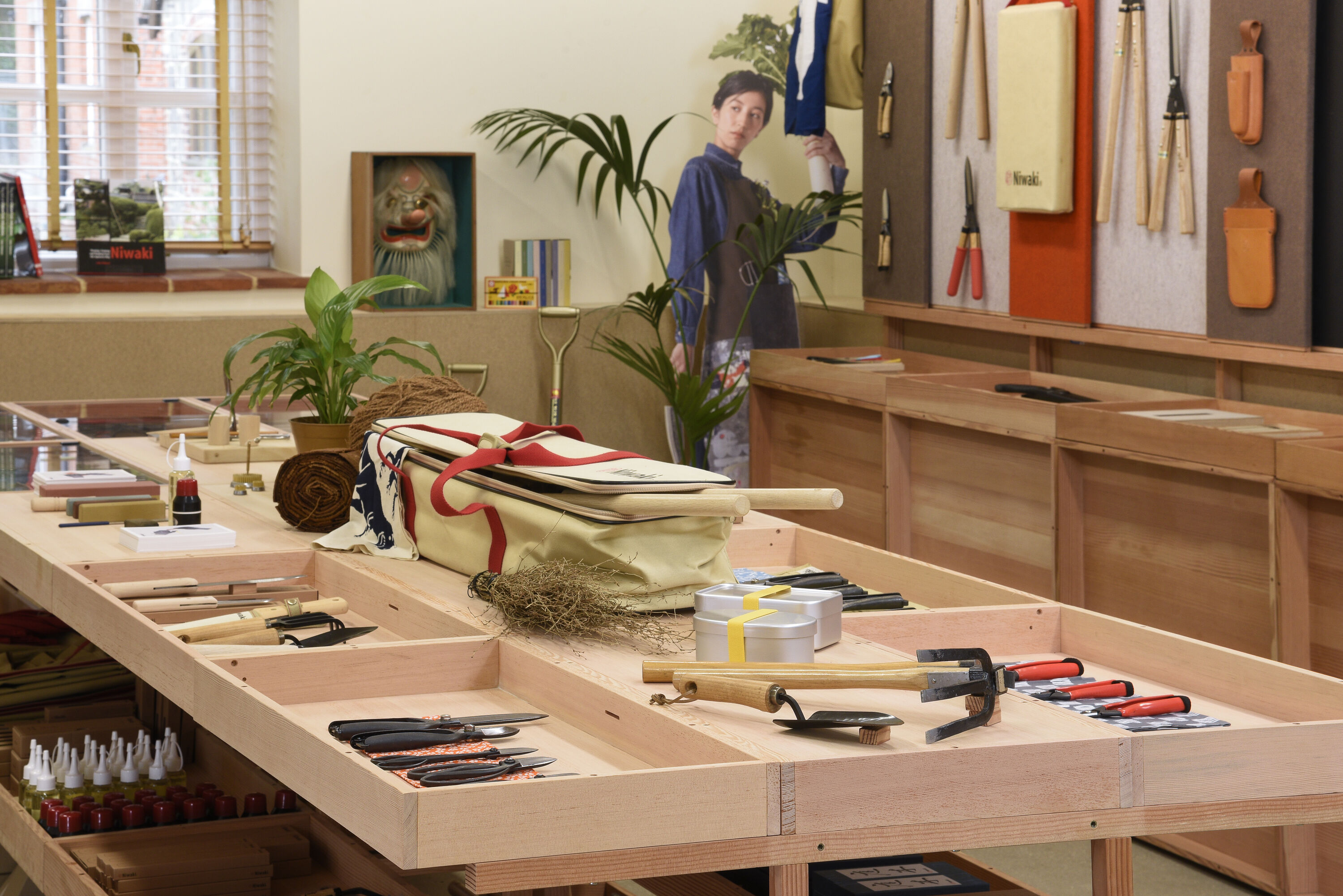 Niwaki HQ Showroom and Open Days News
Dispatches from Niwaki HQ Showroom: a new location and November open days
If you've been down to Niwaki HQ in Semley (near Shaftesbury in Dorset) over the past few months, you'll have quite rightly sensed that change was afoot.
Over the summer (remember summer?) our showroom closed temporarily, reappearing – on more clement days and in much reduced terms – as a pop-up shop on the back of our bright yellow, modified Toyota FJ40 Land Cruiser. There's only so much you can fit on a flatbed truck – even one as stylish as ours – and although we continued to offer click and collect, it pained us to see disappointed customers who had hoped to browse the entire range.
Thankfully those days are now behind us. With a little less fanfare than the opening of our Chiltern Street outlet, the Niwaki HQ Showroom is back up and running, albeit in a slightly new location. If you visited us in early 2021, you would have found the showroom in a side room of our warehouse. The new showroom is in a much more salubrious location: take the main entrance into Chaldicott Barns, between The Travel Book Co. and Compton McRae's Kitchen & Larder – both very much worth a visit – and look for the low stone building (no.7) in the back left-hand corner of the courtyard. The Niwaki yellow Toyota is a bit of a giveaway, as are the cloud-pruned Phillyrea latifolia standing sentinel at the entrance.
Once again, all things Niwaki are back within your grasp and available for demonstration. Madison, the shop manager, will be very happy to help you choose between GR Pro and Higurashi secateurs, ease you into the right size Tabi boot or demonstrate the height and folded size of a set of Lucano steps, and with our warehouse just around the corner we can even pull out a whopping 15' ANSI Pro Tripod Ladder (or any other size you like) for your inspection.
The Niwaki HQ Showroom is open Monday to Friday 10:00 to 16:00, and, in November and December, Saturday 10:00 to 14:00.
As if the opportunity to browse our complete range isn't reason enough to visit, we have a two-day sushi, sake and secateurs special event to tempt you out into the November bluster. On Friday 19 and Saturday 20 November, Jake and the team will be handing out nibbles, libations (not just sake … green tea will also be available for designated drivers) and tool care advice to all comers.
We'll be running sharpening demonstrations throughout the day(s); if you have a Niwaki product that needs a little TLC, bring it along and we can offer some expert guidance. There's nothing especially Japanese about Christmas, but if you are looking for a present for a hard-to-please mother-in-law, an earthy uncle or a green-fingered friend, you'll be hard pressed to find a better selection of gifts in one place.
Sushi, sake and secateurs open days are 10:00 to 16:00 on Friday 19 and 10:00 to 14:00 on Saturday 20 November.
There's a similar event planned for Niwaki Chiltern Street: our metropolitan readers might like to stamp a hanko (the red bit of our logo) in their diary on Friday 3 and Saturday 4 December. If you're on our email list, we'll be dropping you a line with more information soon. If you are not, please do sign up to receive Niwaki information once a month or so: there's a form at the bottom of the homepage, or you can shop online and tick the relevant box on checkout.