↓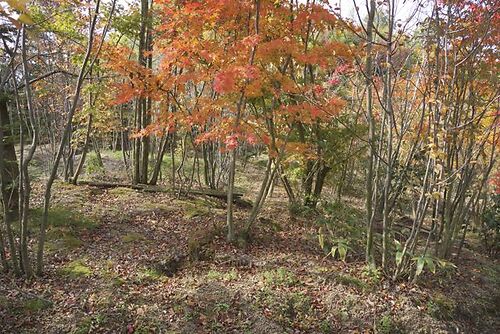 13 January 2013
Japanese tree nurseries come in all shape and form - the main common factor being that trees are always field grown. It's not unusual to find an empty house lot in a village given over to pine trees, or neatly divided paddy fields interrupted by a field of Podocarpus macrophyllus.
The Furukawa nursery in Osaka, where I spent some time working, has various sites scattered over a wide area - a lot of it hilly. They're moving towards a more natural style of tree, in keeping with many contemporary gardens in Japan, and it's in the hills that they have this great woodland of deciduous, often multi-stemmed trees, planted randomly to create the kind of environment where the trees would grow naturally, and the feel that the designers are after - light, dappled shade.
Maples, ash, hornbeam, Cornus kousa, Styrax japonica, Stewartia pseudocamellia (known as natsutsubaki, or summer camellia) and things like that. They're not produced here - they're bought in from larger producers, some of whom harvest natural hillside woodland. Furukawa buy them in, 'heal them in' and sell them on.
Watering is fun!
A-chan, eldest son, preparing a tree for sale.