The showroom is now open, Monday - Friday, 9 - 5
Niwaki Tripod Ladder
Original and Fully Adjustable models
Perfect for hedges, topiary, fruit trees and all other garden and DIY jobs where you need to work safely at height. The three legs and wide base provide incredible stability, even on slopes and steps. Free mainland UK Delivery*
Free delivery on orders over $100.00 (surcharges may apply to some items and locations)
View all our Essentials
Niwaki Tripod Ladder
Greatest ladder ever. Couldn't live without it.

Thomas, Sweden.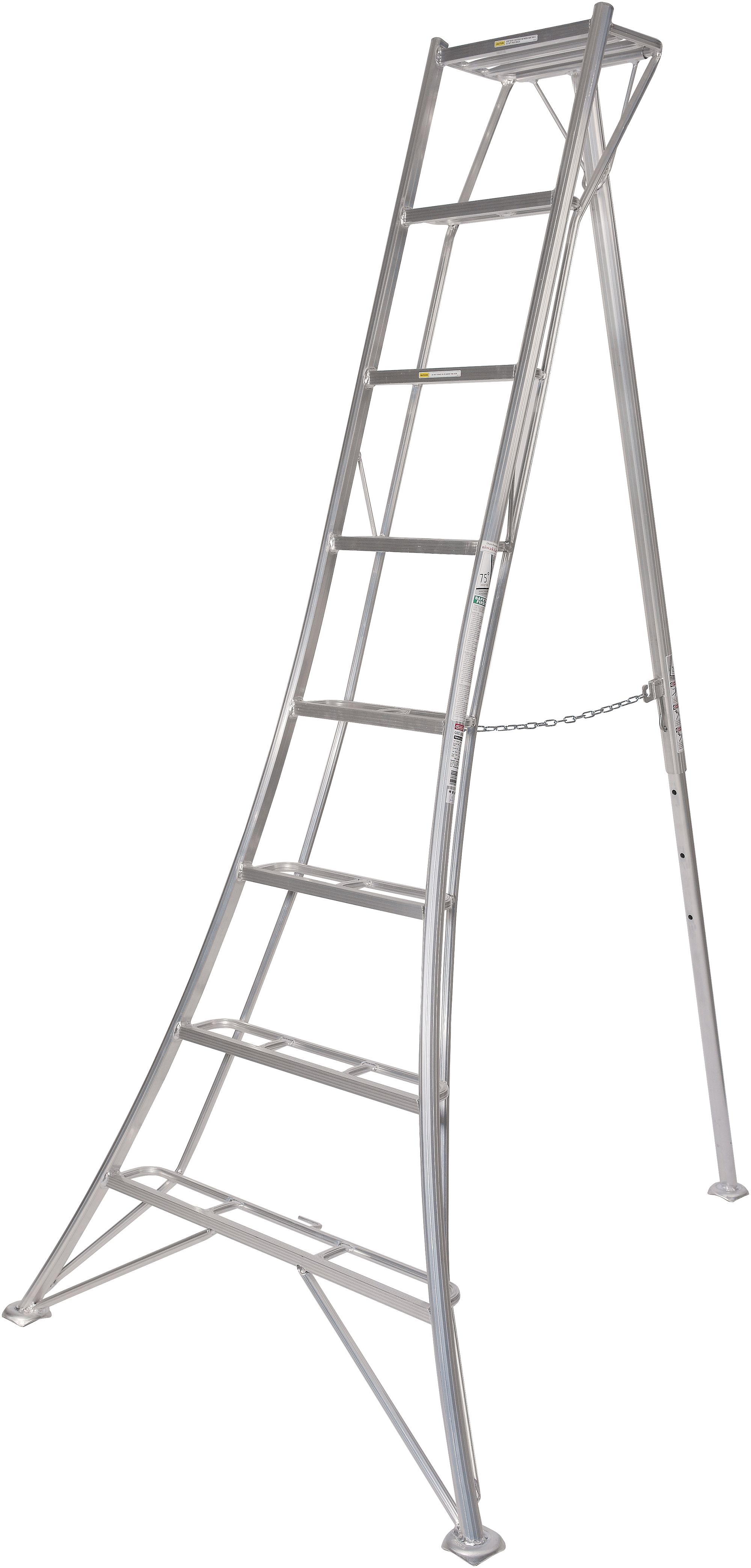 Original
Lightweight, easy to handle, and perfect for pruning in the garden and for use around the home. The tripod design is exceptionally stable, and its adjustable back leg gets you right into the action, safely and comfortably. Rated to 100kg.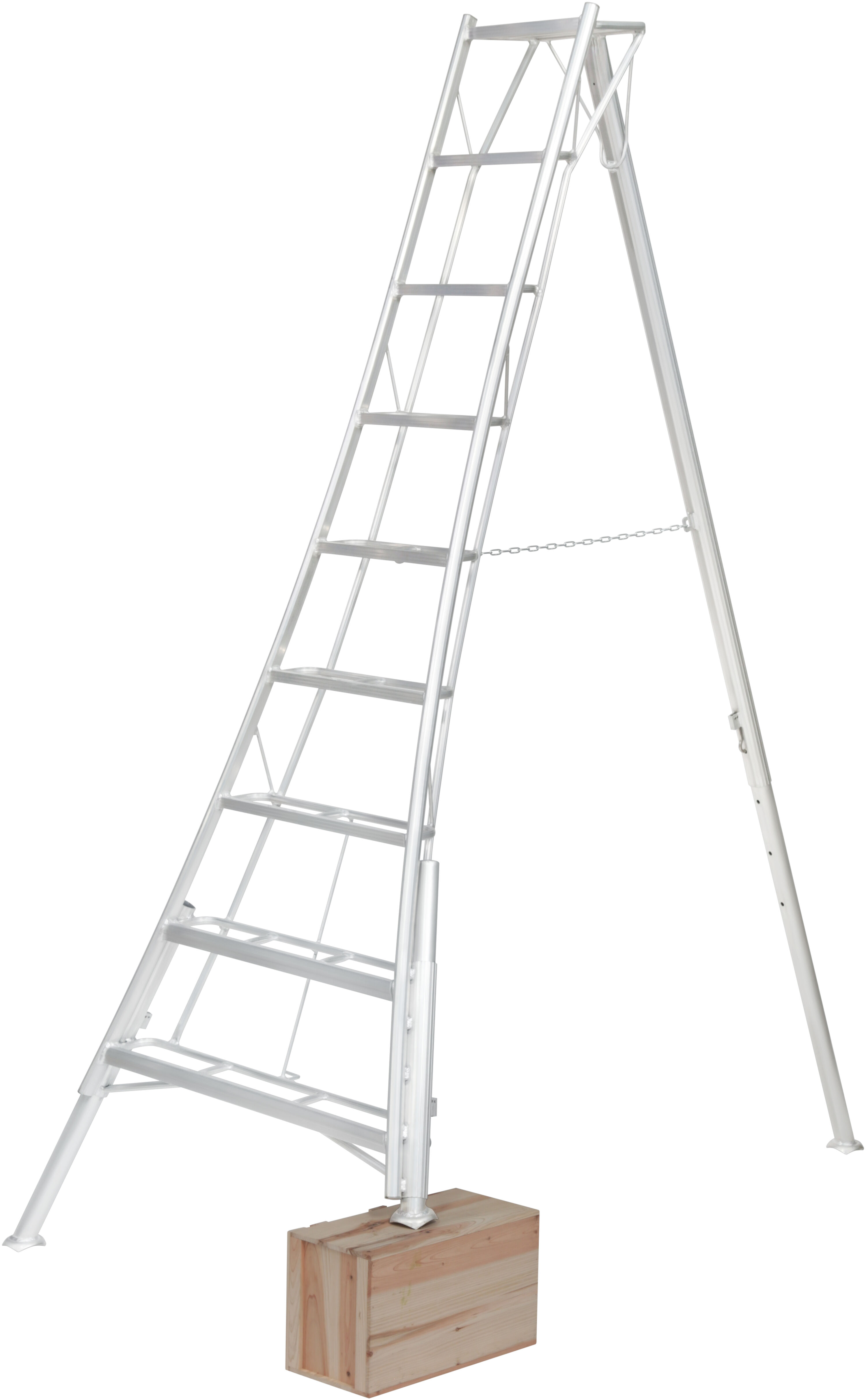 EN Pro Adjustable
The heavyweight version, beefed up for commercial use, with three adjustable legs for use on slopes and steps. Essential for landscapers and employers. Certified to EN-131 standards and rated to 150kg.
Tripod Ladders are essential for large topiary and hedges. You can either work face-on, with the 3rd leg poked into the hedge, or sideways, with the ladder parallel to the hedge - their adaptability (3 legs), stability (wide base) and comfort (double rungs) allow you to spend all the time necessary to do jobs properly, without rushing.
Ideal for orchard work, both for picking and pruning, where thanks to the single back leg, you can can get right into the crown of the tree. Unlike traditional orchard designs (pointed A-Frame), you can lean over the top, or rest picking baskets etc on top. They're also considerably wider at the base than A-Frames, adjust for slopes, and of course are welded not riveted, so are much, much stronger - and exceptionally light and easy to use.
Use the Rubber Feet on hard surfaces; patios, concrete, tarmac, driveways, etc.
Stable Tripod Design
Perfect for Cutting Tall Hedges
Adjustable 3rd Leg for Slopes and Steps
All 3 legs adjust on EN Pro Adjustable model
Simple & safe spring pin adjustment
Lightweight and Weatherproof
Up to 9' Safe Standing Height (SSH)
Manufactured in China by Hasegawa Kogyo
Optional Rubber Feet for hard surfaces
EN Pro Adjustable model certified to EN-131 standards
Price includes delivery within mainland UK (15' not available in all areas)
The Tripod Ladder is described by Monty Don as one of his five favourite gardening tools in the Telegraph. As used on BBC Gardeners' World.
Size (open height)
Weight
Width
Spread
Folded Length
SSH*
Hedge (guide)
Steps**
Load Bearing
4' (1.2m) Original
4.9kg
95cm
92cm
132cm
30cm
 
4
100kg
6' (1.8m) Original
6.5kg
125cm
122cm
194cm
120cm
6'-8'
6
100kg
7' (2.1m) EN Pro
Adjustable
11.6kg
95cm
(±10cm)
169cm
(±10cm)
210cm
115cm
(±20cm)
6'-9'
7
150kg
8' (2.4m) Original
8.3kg
125cm
157cm
259cm
140cm
8'-10'
8
100kg
9' (2.7m) EN Pro
Adjustable
14.3kg
127cm
(±12cm)
210cm
(±12cm)
264cm
175cm
(±20cm)
8'-11'
9
150kg
10' (3.0m) Original
10.5kg
145cm
193cm
317cm
210cm
10'-12'
10
100kg
11' (3.3m) EN Pro
Adjustable
17.5kg
128cm
(±14cm)
248cm
(±12cm)
327cm
235cm
(±20cm)
10'-13'
11
150kg
12' (3.6m) Original
12.1kg
145cm
219cm
381cm
270cm
12'-14'
12
100kg
15' (4.5m) ANSI
19.0kg
145cm
335cm
467cm
330cm
15'-17'
16
135kg
*SSH: Safe Standing Height, 3 steps from the top. **Steps: includes the top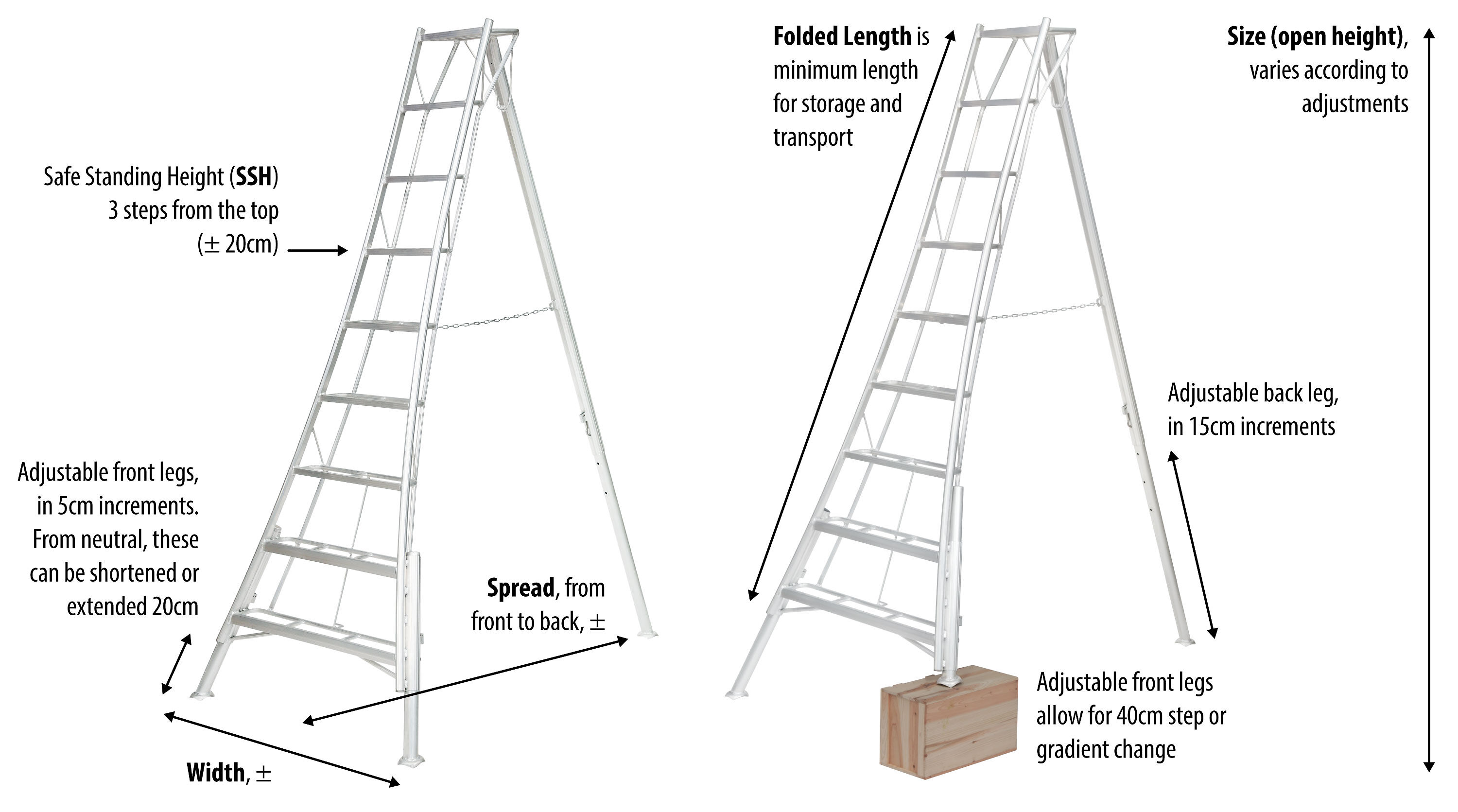 Unbelievably brilliant. Can't describe how much we love it

Mrs B.
Ladder Bumpf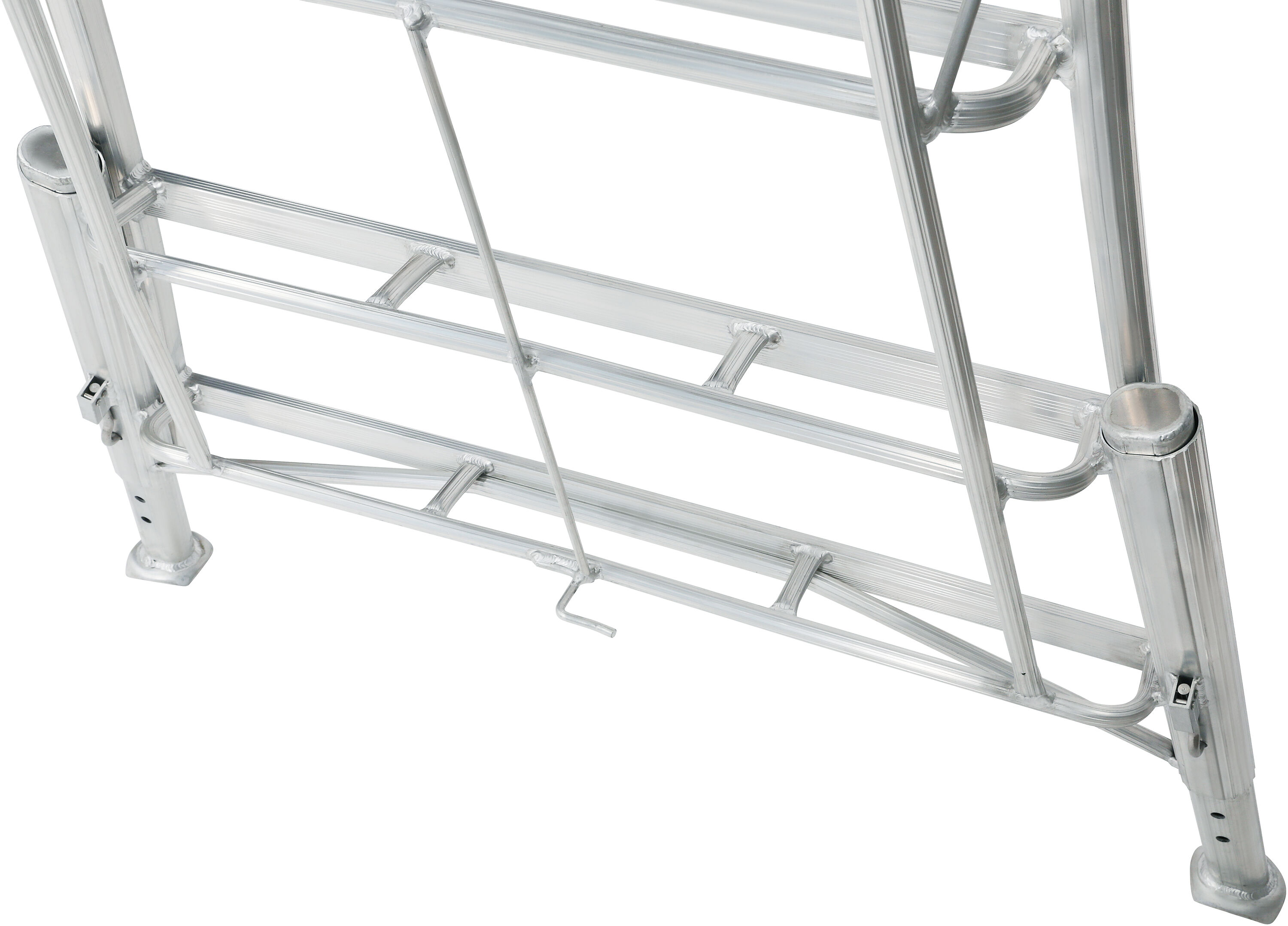 Tripod ladders are used all over Japan by gardeners and nurserymen. Our customers include tree surgeons, topiary specialists, head gardeners, orchard owners, hedging contractors and landscapers, as well as countless keen gardeners who all appreciate the stability and practicality of the tripod design.
We import directly from our Japanese manufacturer Hasegawa Kogyo's factory in China, and keep stock of all models in our warehouse in Shaftesbury. Hasegawa have the reputation for making the best quality and safest tripod ladders in use today - their production conforms to JIS (Japanese Industrial Standards.) Ask any gardener in Japan which ladders they use and they all say the same thing: Hasegawa. All the ladders have full safety and user instructions included as factory fitted stickers. The EN Pro Adjustable Tripod Ladder conforms to EN-131 standards for commercial use. The 15' ANSI  is a heavy duty ladder, rated to US standards, and although it conforms to EN standards, is not certified as such. 
The wide base, deep steps and telescopic back leg, as well as clawed feet and flat top make them incredibly safe and easy to use. Rather like in the design of the Eiffel tower, your weight is directed downwards and outwards, pinning the ladder to the ground. The back leg adjusts quickly and easily up to 18" in 6" stops with a spring-loaded pin, extending 6" and shortening 12" for use on slopes and steps. The front legs of the EN Pro Adjustable Tripod Ladder adjust in 5cm increments, allowing for a 40cm level change.
The welded, extruded aluminium construction is weatherproof, strong, and very light. Double rungs are easy on the feet, and don't get muddy or slippery.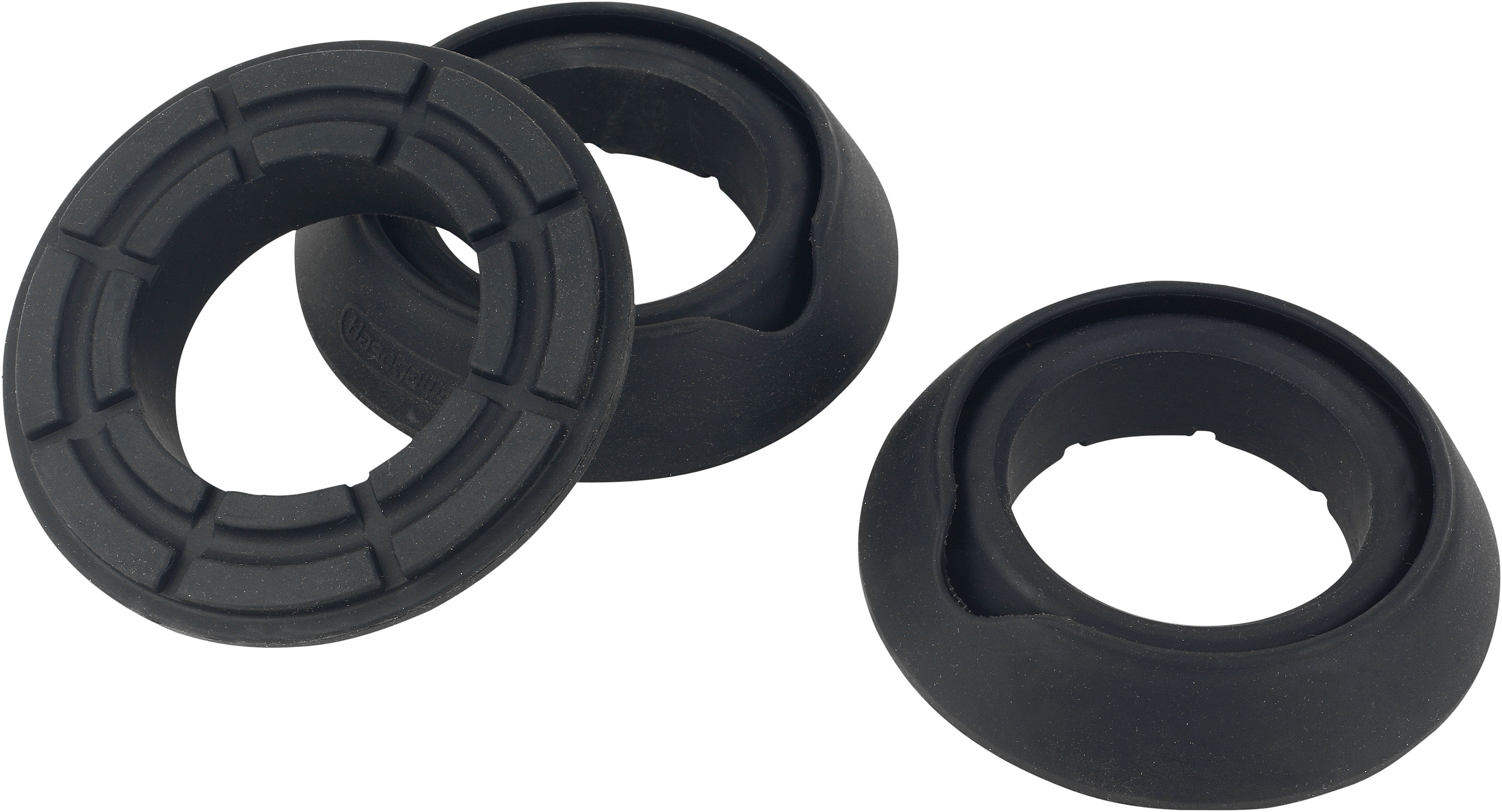 Use the Rubber Feet on all hard surfaces - tarmac, concrete, patios, flooring etc, to ensure sound footing. (Not necessary on grass or soil).
Which Ladder
Which ladder to choose? Good question, without a straightforward answer. Every garden, every gardener and every job is slightly different and what works for one might be less suitable for another. BUT there are a few basic truths.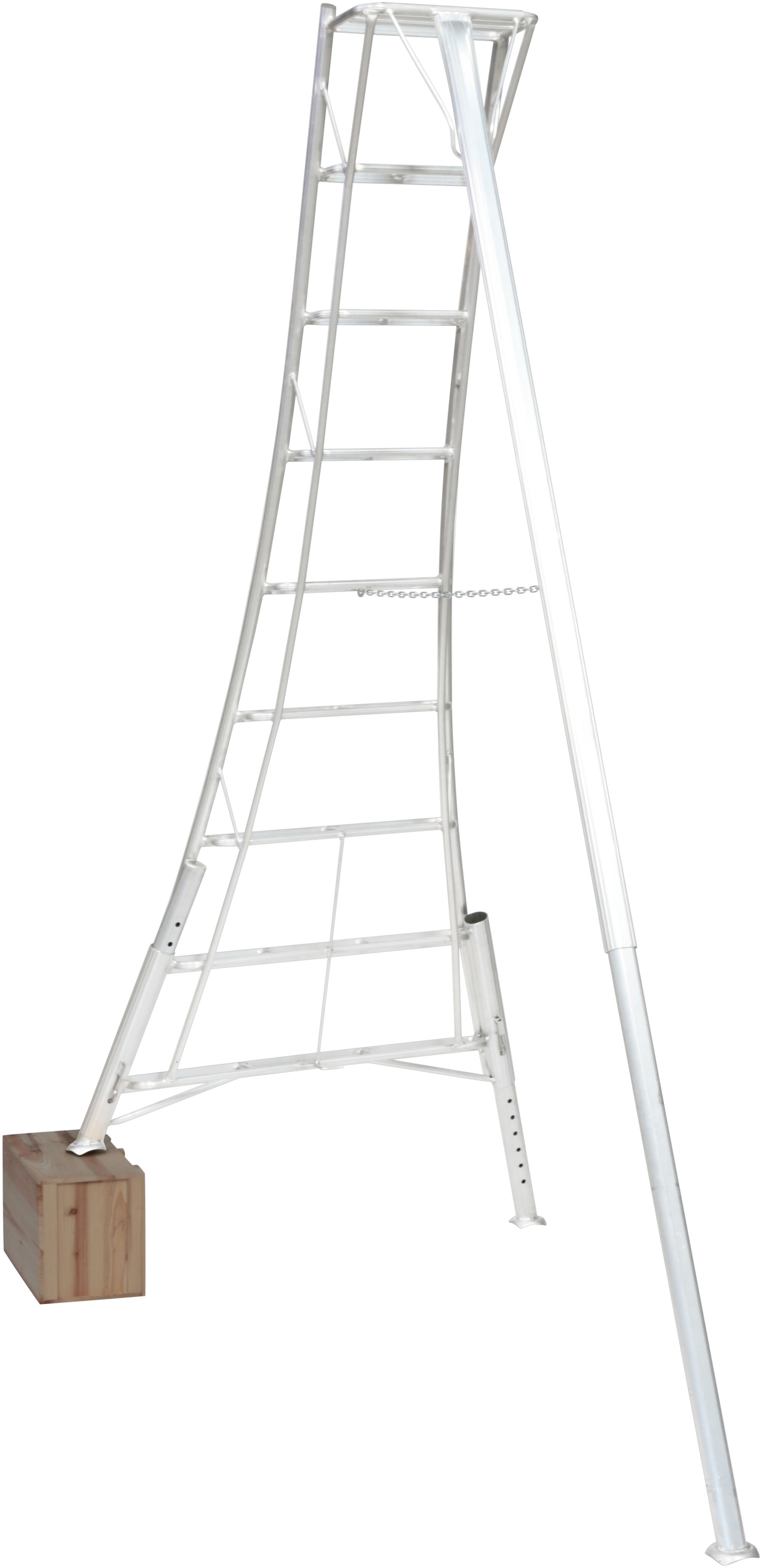 Original or EN Pro Adjustable: the heavy duty EN Pro Adjustable Tripod Ladders are designed for landscapers, tree surgeons and other tough jobs - but do perfectly well in private gardens. If the ladders are used by employees, or will be taking a heavy weight of more than 100kg, or used intensively, day in, day out, they are essential, even without the adjustable legs. Consider it a beefed-up version of the original Tripod Ladder, conforming to EN-131 standards, assuring professionals, employers and all demanding gardeners of the quality and safety of these remarkable ladders. With a load bearing of 150kg, reinforced lower rungs and a chunkier back leg, it is stronger, more robust, and more rigid, offering greater stability and user safety. For regular domestic use, the Original Tripod Ladder will do you fine - although it is not suitable, or rated, for trade or commercial use. If you need the adjustable front legs - for full versatility - go for the EN Pro Adjustable.
Size: using our SSH (Safe Standing Height) combined with your own height, and the height of the job in hand, we can fairly accurately say what size ladder you need (for a specific job). On the larger ladders (7' and up) the SSH is 3 steps from the top, so the top is effectively your handrail or something to lean against. On the smaller ladders, the SSH is officially 2 steps from the top, but for more cautious users we still recommend 3. So, using the 8 footer as an example, you can stand, comfortably and safely, at 5'. Let's say you're 6' tall, which means the top of your head is at 11' and you can reach to about 12', arm outstretched. For hedge pruning, where ideally you want to be working between waist and chest height, you'll have a working height of 8-10'. Of course it's higher if you're taller than 6', and lower if shorter.
The ANSI 15' Tripod Ladder is enormous - far too big for most gardens, and very hard to manoeuvre. We only deliver this ladder in our own vehicle. Please contact us to discuss, before ordering.
Weight: they're all remarkably light, and folded up into a lump of aluminium, in a suitcase, would seem like nothing at all. What they are, though, is tall, and wide. Moving them around, especially when you're deep in the undergrowth and you need to move a few feet, can be tricky: the legs stick out wider than you think, and the taller ladders can be top heavy. Taller people tend to hold the ladder higher up, so this is less of a problem - for shorter people it can be a real bore. Keiko, who is Japanese-height, finds using the 8 footer fine, but not the 10 footer.
All-rounder: just like everything else, there's no such thing as the perfect all-round ladder (even though we like to think we get pretty close.) If your ladder is for one job - great. If it's for general use, there are a couple of points to consider. If you think you need the biggest one, think again. It will be great for a few jobs, but it will be OTT for lots more: we always suggest getting the size that will get the most use, and point out that even if you get the biggest, it still won't be big enough for some jobs. Personally, my favourite ladder is the 7' Adjustable (and you can guess how many I have to choose from). Think also about where the ladder will live, whether it will travel, and who else might use it.
Slopes: all the tripod ladders have an adjustable back leg, with a spring-pin that extends (by 6") or shortens (upto 18") in 6" stops. So working into a slope is fine (always try and work into, not down, the slope). The EN Pro Adjustable has adjustable front legs too, adjusting in 5cm increments to cater for sideways level changes of up to 40cm.
Load Bearing: Original Tripod Ladder: 100kg,  EN Pro Adjustable Tripod Ladder 150kg.

Recently Added