↓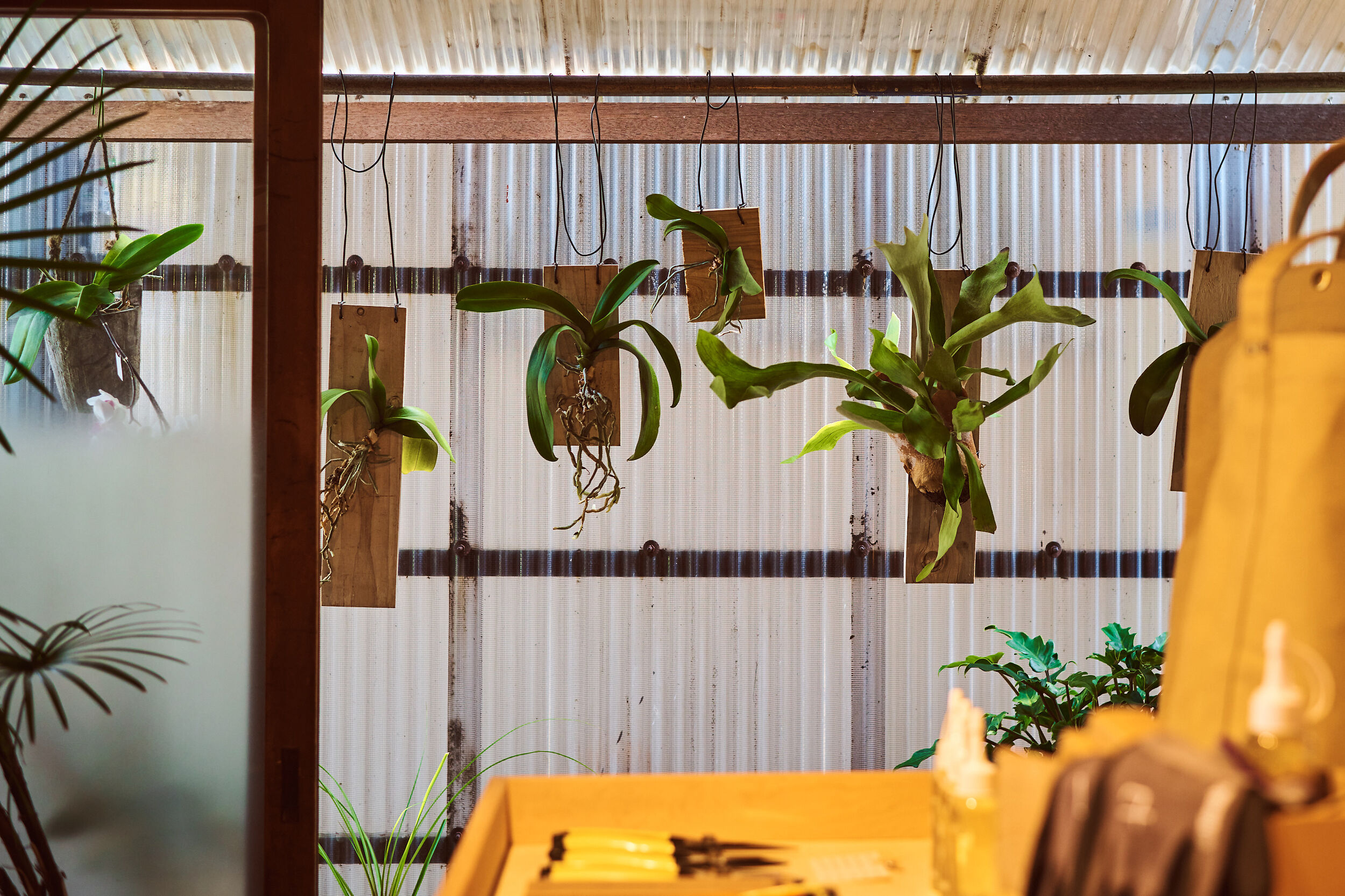 Niwaki Kagurazaka, Tokyo
Great stuff from Japan, in Japan
Sitting here at Niwaki HQ, Dorset, it's sometimes easy to forget that our products begin their lives on the other side of the world.
Your favourite Moku Trowel found its shape in the hands of a father and son team in Niigata, and the Niwaki Blue Steel Higonokami Folding Knife you secretly covet couldn't have been made anywhere but Miki, Hyogo Prefecture, since its 5th generation knife makers are the only remaining team who can use the protected name 'Higonokami' for their products.
The events of the last few years make Japan seem even further away, especially since, at the time of writing – September 2021 – the country remains closed to us Gaijin (aka foreigners). It's comforting, therefore, to remember that there's a little corner of Tokyo, flying the Niwaki flag.
Earlier this year, the estimable Minori (pictured) launched Niwaki Kagurazaka in a pleasantly rambling, low-rise backstreet of Tokyo, not far (but at the same time a million miles away) from Shinjuku – one of Tokyo's busiest stations – and a short hop across a fork in the Kanda river from the Imperial Palace. On account of its old-world charm, Kagurazaka is sometimes known as little Kyoto, and even if you weren't paying Niwaki a visit, this village within a city ought be high on your list of places to visit.
Leafy, cobbled lanes criss-cross this hilly neighbourhood (the "zaka" in "Kagurazaka" means hill or slope), which, in earlier days, stood just outside the main city gates, catering to the entertainment needs of the great and good. In its modern form, Kagurazaka has evolved into a destination for high-class cuisine, café culture and boutique shopping. Narrow streets branch off into even narrower yokocho – alleyways to you and me – where, behind the nondescript slatted wooden doors, you will discover some of the most exclusive ryotei in the city. A few years ago, most ryotei – traditional restaurants mixing entertainment with elaborate kaiseki cuisine – were invitation or referral only, but with a bit of digging and some organisation foreigners can experience ryotei for themselves. If all that sounds a bit intimidating, you could always relax in one of many izakayas – jolly bars serving side dishes that quickly add up to a meal – that jostle for space in these crowded lanes.
A long way from the Tokyo cliché of high-rise buildings gleaming with neon lights, Niwaki Kagurazaka shares the ground floor of a modest building with Qivaco – a 'green shop' selling pots and plants – on a lane so narrow even the Google streetview car hasn't braved it. Doesn't that add to the charm? Getting lost on the way might be part of the fun, but you'll know your quest is over when you see a shopfront bursting with plants and spot the reassuring sight of the Niwaki hanko (the red bit of our logo).
While you may not be able to browse the complete range of Niwaki products, Minori, ably assisted by Yuri, will be able to show you a hand-picked selection of our best-selling secateurs, snips, holsters and other, smaller Niwaki items. Perhaps you will have just visited the nearby Shōseikaku gardens and find the urge to trim and prune can be contained no longer? Or maybe you've travelled to Japan for a Bonsai or Ikebana course and need a pair of Taira Kubo Scissors (perfect for pine pruning) or Okatsune Ikenobo Ikebana Scissors (with their clever wire-cutting notch) to help you make the most of your tuition? Whenever and for whatever reason you end up in Kagurazaka, a warm welcome is guaranteed.
Thinking of warm welcomes, have we mentioned the imminent opening of Niwaki Chiltern Street? It's been hard to contain our excitement, but we will do our best for a couple more weeks, as we eye the 21 September launch date. We can't wait to share the final details of our new shop: it's going to be pretty special. What it won't have, unless one sneaks across in a box of Hori Horis, is the evocative noise of a cicada in June, so we will leave you with this short video (turn it up!) from Kagurazaka, paired with an apposite haiku from the master, Basho:
Quietness –
Sinking into the rocks,
A cicada's cry.
Ueda, Matsuo Bashō, 52