↓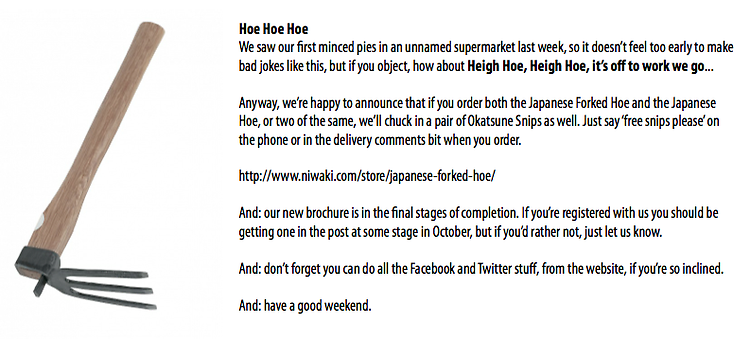 28 September 2013
We saw our first minced pies in an unnamed supermarket last week, so it doesn't feel too early to make bad jokes like this, but if you object, how about Heigh Hoe, Heigh Hoe, it's off to work we go...
Anyway, we're happy to announce that if you order both the Japanese Forked Hoe and the Japanese Hoe, or two of the same, we'll chuck in a pair of Okatsune Snips as well. Just say 'free snips please' on the phone or in the delivery comments bit when you order.
http://www.niwaki.com/store/japanese-forked-hoe/
And: our new brochure is in the final stages of completion. If you're registered with us you should be getting one in the post at some stage in October, but if you'd rather not, just let us know.
And: don't forget you can do all the Facebook and Twitter stuff, from the website, if you're so inclined.
And: have a good weekend.