↓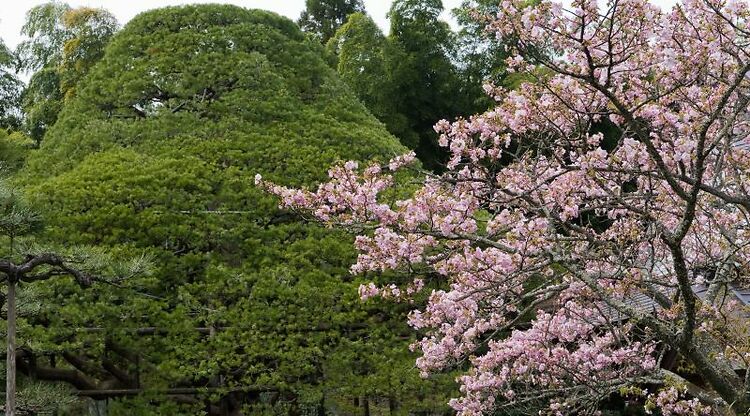 7 June 2010
Gardens of Japan, by Helena Attlee
Here's a review of Helena Attlee's new book I was asked to write for the European Boxwood and Topiary Society (EBTS) magazine, Topiarus. Unfortunately they left my name out!
White pine at Hosen-in, Kyoto. Photo by Alex Ramsey.
The Gardens of Japan, by Helena Attlee with photographs by Alex Ramsey. Published by Frances Lincoln.
I greet every new book on Japanese gardens with a certain amount of trepidation - a mixture of excitement and scepticism. Excited by the possibility it will introduce me to new gardens and ideas, sceptical that it will be yet another trawl through the standard format, repackaged for the next generation. Despite not breaking any radical new ground, I am pleased to report that Gardens of Japan does not disappoint, lying firmly in the excited camp. Helena Attlee does not present herself as a particular specialist on Japanese gardens, and by her own admission this is intended as an introduction rather than definitive overview, which gives her the freedom to dip in here and there, appreciating details that others might miss, while delivering a fresh view that will appeal to gardeners with an interest in - but not obsessed by - Japan.
Interestingly, the book is arranged alphabetically - a short introduction followed by 28 gardens, starting with the Adachi museum and finishing with Tofuku-ji (it's a shame the list doesn't run to Yoshiki-en in Nara, for symmetry if not to include one more lovely garden). At first impression this seems an odd way to order the gardens - one might expect a chronological, stylistic or perhaps geographical order, but alphabetically works exactly because it is none of those. This is not a book for scholars, it is a book to inspire gardeners, and by deliberately avoiding the stodgy stuff our attention is focussed instead on the gardens.
That is not sot say the book lacks depth - each garden is given its own few pages, with a brief description, personal observations and, as appropriate, extra nuggets of well-researched information that, by garden No.28 have pretty much covered the development of gardens in Japan, but in a light, accessible manner. Buddhism and Shintosm, history and the Tale of Genji are all referred to, as are design elements, practical information and observations form the author.
As a garden writer (books on Portugal, Italy and Wales, before Japan) Helena Attlee has one serious advantage over historians - she notices plants. So many books on Japanese gardens skirt around the issue of plants altogether, but not this one. The weeping cherries at Heian-jingu, the red pines at the Adachi museum, the black pines at Ritsurin koen and the extraordinary trained white pine at Hosen-in are all mentioned, and most pleasingly of all, the intricate art of pruning is acknowledged, tucked in neatly under Kenrokuen.
Binding the book together is Alex Ramsey's stunning photography, which illustrates the text vividly, capturing not just overall views of the gardens but details, emotions and moments. The cherry blossom is given its due credit, but other less obvious flowers like Edgeworthia chrysantha are beautifully photographed too. Interior shots, close ups, gardeners at work and design elements such as footpaths and rock arrangements - all the details that one notices as a visitor that gel together to form an overall picture of a garden, are brought together here. I was particularly impressed by the series of photos of Suizen-ji, illustrating perfectly the sense of landscape that the garden evokes.
I would recommend this book to anyone interested in Japan and its gardens, however many books on the subject they already have. Its fresh approach and fantastic photography offer new insights and inspiration and would make an excellent primer for a first time visitor to Japan.